Our Mission
To serve, pursuant to California statute and our professional code of ethics, as outstanding fiduciaries, meeting the highest standard of knowledge, performance and competence in our field. To fulfill our statutory responsibilities in all of the matters in which we are appointed. To manage our cases with prudence and clarity, honoring the rights of all involved parties. To assess and meet needs, overcome challenges, and act assertively and resourcefully in order to achieve successful outcomes in all matters. To adhere, at all times, to the statutes governing the actions and reporting responsibilities of licensed professional fiduciaries.
Go to LPS Conservatorships
LPS Conservatorships
Understanding of the frustrations suffered by mentally ill individuals and those who assist them is a key element of successful LPS conservatorship management.
Go to Guardianship of Minors' Estate
Guardianship of Minors' Estate
A minor's estate has special characteristics and, of course, a set date for termination. Generally, but not exclusively, the child suffers from some type of disability.
Go to Trustee Services
Trustee Services
We understand that each Trust is a separate and unique entity which serves as the Trustor's estate plan. We consider it imperative to honor the stated or implied intentions of the Trustor as we carry out our duties.
About Us
Mandell & Movsesian Fiduciaries
We are a seasoned firm consisting of California licensed professional fiduciaries and support staff. We take a diligent, protective and respectful approach to our work. We have extensive experience as fiduciaries and a long history of professional leadership contributions. The firm was formerly known as Chinello & Mandell.
Our Principal
Shoushan Movsesian has been a licensed professional fiduciary in the State of California since 2009 and has worked as a case management associate for the firm since 2003. She holds a Bachelor of Arts degree in Psychology from UCLA and has completed the Professional Fiduciary Management curriculum at California State University Fullerton. She is a Certified National Guardian under the authority of the Center for Guardianship Certification. Through her employment with American Express Financial Advisors, Victory Adult Health Care Center and LPL Financial she has developed a wide range of experience and strong skills in the fields of individual and group counseling, individual care assessments, financial management and administration, and knowledge of community resources. Shoushan is a respected member of her profession and is known for her calm, thorough and thoughtful handling of challenging and complex matters. She is a consummate and sensitive professional who deeply understands the needs and concerns of elderly persons. Shoushan is fluent in Armenian and Russian.
C.V. of Shoushan Movsesian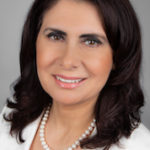 Shoushan Movsesian
Principal